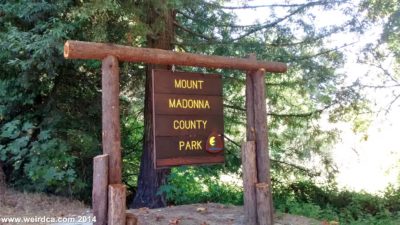 I've been visiting the breathtakingly beautiful campsite at Mount Madonna at least twice a year for twenty years now. It really is a magnificent campsite.
When Silicon Valley is so hot as to be unbearable, the shade of the finest coastal redwoods will help you find your cool. There are no critters to raid your food larder and biting things are vanishingly rare. If you are fortunate, you'll be blessed with a visit by a passing deer—we saw more than a few this weekend—and the rangers are unfailingly polite and welcoming.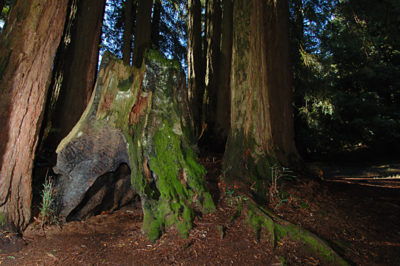 At least, they have been polite and welcoming for the previous twenty years but, this year, there's a new sheriff in town.
For the last ten summers, I've headed out to Mount Madonna with 20 or so of my friends. We bring stacks of geeky board games (Settlers of Catan is a perennial favourite but Puerto Rico has been the must-play game for many a year now) and a couple of kegs of homebrew beer and we dress like pirates for the weekend. We come from all over California—mostly Santa Cruz and San Jose but a few hardy souls come from Placerville, Auburn and beyond and several make the long trek from Los Angeles.
A good time for us wannabe pirates is a big pot-luck supper, a few beers and some songs around the campfire. For reasons lost in the mists of time, our go-to song is Total Eclipse of the Heart and we gave our finest rendition at about 10PM on Friday night. You've never heard Turn around, Bright Eyes sung with such feeling.
We were done with singing and and were just starting our first game of Liar's Dice when we noticed the mysterious, armed strangers walking into our campsite. There were three of them. It was the sheriff and two rangers.
Now, if you've ever been camping and been a little bit rowdy, you know you can expect a visit from the rangers. The group campsite at Mount Madonna is a long way from the family campsites but voices carry and not everyone loves Bonnie Tyler. We expected the usual routine – "Please keep it down—other people are trying to sleep." "Yessir! We'll keep it down! Thank you!" "You folks have a great weekend!" but this time it was different.
The sheriff and his posse looked as though they'd been positioned by Quentin Tarantino. They stood in a triangle with legs wide akimbo about 30 yards away with their flashlights illuminating just their legs. The sheriff had his hand on his gun.
The two most respectable of our number went down to politely enquire what the problem was—expecting the usual friendly exhortation about keeping the noise down—but the sheriff went for maximum confrontation.
You are making too much noise and it looks like some of you have been drinking. You have dogs off the leash and I feel threatened. If any of your dogs approach us, I will shoot them. This is not your home and you need to keep quiet.
To be fair to the sheriff, we did have dogs and none of them were on the leash. One was a cockapoo tucked into my sweater for warmth. Another was a Jack Russell sleeping under the bench and the third was a fat, lazy black lab, curious who the strangers were, who has never intimidated anyone above the age of 18 months old.
Now, we campers are all middle class and middle-aged and our version of The Talk that black parents give their sons goes like this:
The police are on your side. They keep you safe from some very bad people. They do a difficult and dangerous job and they deserve your respect. Always be polite and respectful and you have nothing to fear from them.
But this sheriff rewarded our respect with
I will shoot your dog.
Maybe we misjudged.
It seems trite and petty to complain that the rangers at Mount Madonna campground would threaten to shoot our dogs when so many bad things have happened this week but I really feel that the Santa Clara Parks Department need to review their procedures. The polite, respectful approach of years past was always so effective, I wonder what prompted them to go for the maximum escalation, maximum confrontation approach this time?
I lay awake late into the night on Friday with a poem playing over and over in my head. I feel almost guilty appropriating these moving lines when there are so many tragic events unfolding elsewhere in the country. But, as a visitor from the land of the Cup of Tea where the policemen don't even carry guns, I feel it captures the essence of our little story quite well.
America is a Gun
by Brian Bilston

England is a cup of tea.
France, a wheel of ripened brie.
Greece, a short, squat olive tree.
America is a gun.

Brazil is football on the sand.
Argentina, Maradona's hand.
Germany, an oompah band.
America is a gun.

Holland is a wooden shoe.
Hungary, a goulash stew.
Australia, a kangaroo.
America is a gun.

Japan is a thermal spring.
Scotland is a highland fling.
Oh, better to be anything
than America as a gun.